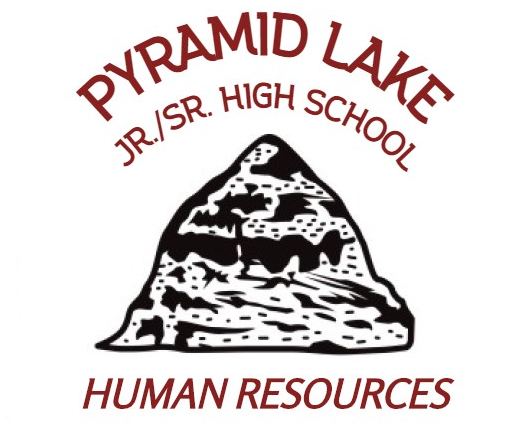 SEEKING REQUEST FOR PROPOSAL
Pyramid Lake JR./SR. High School is an equal employment opportunity employer. The information you provide on your employment application is for occupational qualifications and will not be used for unlawful purposes.
Applications must be completed in ink or typed. Applications & attachments may be emailed, mailed or faxed. If an application is emailed or faxed the original must be mailed.
Each application received will be reviewed, those applicants who are selected for an interview will be contacted by phone, and/or email. A resume attachment may be submitted but will not be considered without a completed application. All applications and attachments are filed for up to 12 months. All applicants must comply with the Background Investigation as a condition of employment. All staff shall not be eligible to enter employment until favorably passing a pre-employment drug test and federal background check.
3.02 EQUAL EMPLOYMENT OPPORTUNITY: It is a policy of the Board to provide equal employment opportunities to all. This means there can be no discrimination as to any condition of employment. All qualified individuals have an equal chance to compete for job opportunities. Race, creed, color, national origin, religion, gender, age, marital status, disability, or prior civil rights activity will not be a factor in the hiring, assignment, reassignment, promotion, demotion, or dismissal of personnel at the School. Indian preference shall apply as stated in Title VII of the Civil Rights Act of 1964.
EMPLOYMENT OPPORTUNITIES:
HEAD CHEER COACH (Classified) - RE-POSTED, OUF
SUBSTITUTE (Certified) - ONGOING
Substitute Teacher Requirements: Minimum of 60 semester credits or an associates degree or higher degree. Must have a current Nevada Substitute teacher license.
APPLICATIONS FOR EMPLOYMENT & VOLUNTEER:
COMPLETE ALL REQUIRED INFORMATION OF THE APPLICATIONS IN INK OR TYPING. IF SENDING VIA FAX, ONLY USE THE FAX NUMBER LISTED ABOVE & MAIL THE ORIGINAL. INCOMPLETE APPLICATIONS WILL NOT BE ACCEPTED.
PLEASE DO NOT USE GOOGLE DOCS WHEN COMPLETING APPLICATIONS.
CERTIFIED EMPLOYMENT APPLICATION - (Teaching & Substitute Positions) INCLUDE: Official Transcripts of university credits and a copy of the State of Nevada Teaching License.
CLASSIFIED EMPLOYMENT APPLICATION
CONTACT US:
Emma Powell, HR Manager Email: powelle@plhs.us EXT. 1005
Hailee Dunn, HR Assistant Email: dunnh@plhs.us EXT. 1025
PHONE: (775) 574-1016 HR FAX: (775) 335-1047
EMPLOYEE BENEFITS:
PLHS offers benefit packages to full time, regular employees who work 30+ hrs. per week, eligibility after 60 days. This includes:

Medical Insurance: is offered through Hometown Health with a PPO plan. Dependent coverage is available. Bi-weekly payroll deductions.
PPO : EE Only $0.00, EE + Spouse $530.53, EE + Child(ren) $353.70, Family $ 928.44

Dental/Vision/Life Insurance: is offered through Anthem BCBS. Dependent coverage is available. Bi-weekly payroll deductions. Also offered to each employee only, a $25, 000 Life & AD&D paid by PLHS
Dental: EE Only $0.00, EE + Spouse $16.61, EE + Child(ren) $23.45, Family $44.40.
Vision: EE Only $0.00, EE + Spouse $1.90, EE + Child(ren) $2.17, Family $4.66.
Life and AD&D: EE Only $0.00

If you have an additional insurance plan(s) and chose to participate in our employer sponsored plans, you will still be responsible for two premiums and two deductibles. PLHS will not cover any additional bills or claims on behalf of the employee.

401 (k) Retirement: is offered through VOYA. 401K eligibility is after 1 year of employment and 1,000 hours on the job. PLHS contributes 5% for those employees that select to participate in our plan. Vesting schedule is 1st Year - 20%, 2nd Year - 40%, 3rd Year - 60%, 4th Year – 80%, and 5th Year 100%. Employees are always vested in their contribution. We also amended the plan to allow at age 59.5, a withdrawal subject to the 20% IRS Deduction and a fee. Individuals are also eligible to take out a loan.
Rural Stipends: are offered to full-time Certified and Classified employees in the amount of $550.00. Part-time employees may received a pro-rated amount.

Paid Holidays: Fourteen paid holidays each year: New Years, Martin Luther, Presidents, Pyramid Lake War Memorial, Memorial, Juneteenth, Independence, Labor, Indian, Nevada, Veteran's, Thanksgiving, Family Day, and Christmas.
Employee Assistance Program: is offered through the Sumunumu Program located within the Pyramid Lake Health Clinic. When personal problems become detrimental to job performance.
Certified Employee Leave: Currently receive 3 Personal Days and 9 Sick Days; allowed to use sick leave for bereavement, family illness/appointments. All leave is the same or prorated for those employed after the start of a school year. At termination or when the employee leaves our employment, there is no pay out of personal or sick leave.
Classified Employee Leave: Currently receive up to 4 Hours bi-weekly (prorated), 3.69 Hours for Sick Leave bi-weekly (prorated) and Family Leave at January 1st of each year, 30 hours (prorated) for those hired after January 1st.
Meals: The school provides breakfast ($2.50) and lunch ($3.50) on each school day for all staff and students. You can either pay with cash, debit card or payroll deduction.
Uniforms: The school provides each new employees with 2 Polo Shirts or 2 Tee-Shirts (short or long sleeve) or a combination of either to equal 2 and a Sweatshirt (pullover crew neck, pullover hoodie or zip up hoodie). Staff can also purchase additional uniforms from the front office as needed.
HARD-TO-FILL CERTIFIED POSITIONS
Depending on the schools annual budget and grant funding: the Board can approve a one-time sign-on bonus during the first year of employment for hard-to-fill positions; certified contracts may include a rural stipend as approved by the Board. Hard-to-fill positions are defined as the following: Special Education, Foreign Language, Math and Science
CERTIFIED PAY SCALE
REQUIREMENTS & SALARY FOR SUBSTITUTE TEACHER
BOARD POLICIES & ADMINISTRATIVE PROCEDURES
SCAN (Suspected Child Abuse & Neglect) Board Approved Reporting Information